Quickbooks Alternatives for Small Business
As your company grows, workflow processes that are currently handled manually or in-house become inefficient. Streamlining business processes can be challenging for business owners. If you find yourself on this boat, just know there is software readily available to help you grow and evolve your business. However, which is the right one for your business? Here are some alternatives to Quickbooks for your small or medium-sized business.

What is QuickBooks?
QuickBooks is an accounting software that is meant for basic bookkeeping of financial data.
It is a simple and basic accounting solution catered for small businesses, helping them manage accounting processes such as payroll, taxes, inventory, and more.
QuickBooks is a great starting point for new businesses, it operates independently from other systems, meaning it only provides accounting solutions. However, QuickBooks has become a common small business standard that most enterprise systems are able to use QuickBook files.
QuickBooks Alternatives
When it comes to accounting software, QuickBooks is one of the best. It's inexpensive and easy to use, which is why many small businesses turn to software for managing the business's finances.
However, you might be curious as to what other accounting solutions are out there, especially as your business grows and changes.
Here are some noteworthy QuickBooks alternatives for small business:
Xero
The cloud-based software provides a simple interface that is easy to use and easy to understand. Its innovative reconcile-as-you-go feature is loved by many business owners. Xero offers three packages priced at $9/month for the Starter package, $30/month for the Standard Package, and $70/month for the Premium package. Small businesses can choose to start with the Starter Package and upgrade as the business grows.
Wave
The Wave software is free and unlimited, which grants you instant access to all available features after signing up. Wave's free features include unlimited income and expenses tracking, unlimited collaborators, customizable invoices, receipt scanning, and more. If you do need a payroll solution, Wave charges $20-35/ month, plus $6 per active employee or contractor paid.
FreshBooks
FreshBooks is a highly user-friendly software best suited for entrepreneurs and small teams. Their features include invoicing, expenses tracking, estimates, and more. This affordable accounting tool starts at $15/ month for the Lite plan, which allows you to manage 5 clients, which can be very limiting. The plus plan ($25/ month) allows for 50 clients and includes unlimited recurring invoices. The premium plan from FreshBooks supports 500 clients and will run you about $50/ month.
FreeAgent
This option, which includes automated bank feeds and mobile apps, caters specifically to small business owners and provides solutions such as invoicing, expense tracking, sales tax calculation, and a real-time view of cash flow. The Universal plan starts at $20/month and includes sales tax reporting and multi-currency invoicing.
When looking for QuickBooks alternatives, you need to consider which accounting functions your business needs. These functions include invoicing, bill tracking, tax, payroll, and asset management.
Another important question to ask yourself as a business owner is: How do you envision the future of your business?
Do you have plans to open multiple business locations? Hire more people? Eventually, take your business public?
If you answered yes to any of these questions, upgrading to an ERP solution might be the best option for your business.

Small Business and ERP
ERP solutions aren't just for large corporations. Small-and medium-sized businesses can also benefit from an ERP solution due to the software's ability to handle larger purchase volumes and workflow processes that accompany business growth.
We can look at the cannabis industry as an example. The number of start-ups has dramatically increased with law changes in some states. Many of these start-ups have grown into full-fledged businesses that will cause them to outgrow software such as QuickBooks and upgrade to an ERP solution.
SAP Business One integrates accounting processes with the rest of your business, allowing you to manage all your company's assets on a single interface while adhering to the industry's regulatory compliance.
Having this built-in efficiency for your business processes will attract potential investors and increase the value of your business.
Benefits of an ERP System Like SAP Business One
An ERP solution, such as SAP Business One, is configured to meet your specific business needs, offering your organization a fully integrated system that allows you to manage all aspects of your business, including accounting.
SAP Business One offers more than 600 industry solutions, configured for specific industry needs and easy to integrate with external applications required for unique business processes.
Comparing QuickBooks and SAP Business One
QuickBooks may work for small businesses with low transaction volumes, but business owners might find that the software becomes less effective as transaction volumes and overall business operations grow. Most notably, QuickBooks is a financial software, so it's limited to accounting processes.
If you're looking for more automation in your day-to-day workflow, you might want to consider an upgrade and implement an integrated ERP system that can offer your organization a wider range of features and functionality.
Both QuickBooks and an ERP solution like SAP Business One can help businesses manage their accounting. However, when it comes to workflow processes outside of small-scale accounting, QuickBooks becomes ineffective, quickly.

Here are other factors to consider when comparing the two software:
Growth
QuickBooks is less effective in managing data when there becomes more of it. Business owners should consider if they'll always be able to handle accounting processes in-house.
The process requirements will change drastically when a company grows, introduces new products and/ or services, or expands into new markets and business locations. This requires more complex management software that will be able to process high volumes of data and real-time information.
Scalability
QuickBooks is great for basic accounting, but not when the business' accounting needs become more complex and require non-standard elements such as multi-currency. You might not require all the functions an ERP solution offers right away, but most integrated software is designed to adapt to small or large-scale business changes.
SAP Business One is a scalable solution that will remove inefficiencies, allowing you to focus more on business growth.
Industry-Specific
You can connect accounting software to applications from other departments to create tools like dashboards, to help you visualize business performance from all angles.
ERP industry solutions adhere to strict industry standards and guidelines (like cannabis, for example) in order to provide you with a customized solution that will help you manage your unique and specific business processes.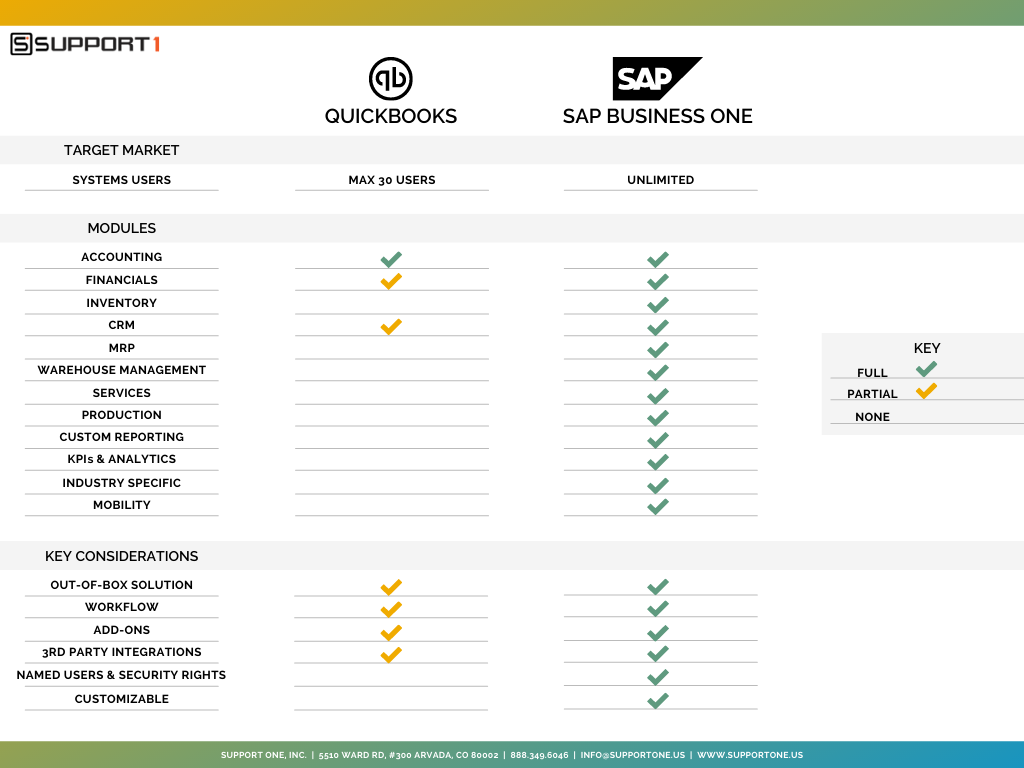 SAP Business One and Support One
SAP Business One is one of the best QuickBooks alternatives for small and medium-sized businesses. It delivers effective, scalable, and customizable software that helps businesses grow, compete and thrive.
Contact us for more information on how Support One can help with integration, implementation, and support, today.
https://supportone.us/wp-content/uploads/2022/01/quickbooks-alternatives-for-small-business.png
900
1200
admin
https://supportone.us/wp-content/uploads/2021/09/S1Logo-new-300x46.png
admin
2022-01-11 22:12:19
2022-05-24 19:27:55
Quickbooks Alternatives for Small Business