Cannabis Industry Challenges
The cannabis industry is one of the fastest-growing markets in the world due to its widespread acceptance. As more and more countries legalize cannabis, both for medical and recreational purposes, the industry is expected to continue to grow at an exponential rate. However, with this rapid growth comes a number of challenges that businesses in the industry must overcome. By taking inventory of these difficulties and taking action toward solutions, you can prepare your cannabis business to overcome a complex business environment.

Challenges the Cannabis Industry Faces
As the cannabis industry continues to grow, businesses in the space are facing new and unique challenges.
From inventory tracking to regulatory compliance, cannabis companies need to find solutions that can address the specific needs of operating in a highly complex industry.
Operational Complexity
With the industry's rapid growth, there is a shortage of qualified workers.
This is especially true for positions that require highly specialized skill sets that deal with cannabis operations. Given the industry's rapid growth, businesses must be agile and able to adapt to change quickly. This can make project planning and budgeting particularly challenging.
Financial Limitations
Due to cannabis still being illegal on a federal level in many countries, banks are often reluctant to do business with cannabis companies.
This limits the ability of businesses in the industry to access capital. Because of the limited banking opportunities, many companies in the cannabis industry are forced to operate entirely in cash. This makes it difficult to track expenses and capital and can make businesses a target for theft.
In addition, the cannabis industry is heavily regulated, which means that businesses must keep track of their finances in great detail, which can be challenging even for established accountants.
Inventory and Supply Chain Challenges
Due to the complex nature of the cannabis supply chain, businesses must be able to track their product in real time.
This requires a robust and sophisticated Enterprise Resource Planning (ERP) solution.
In addition, it can be difficult to keep track of inventory levels and ensure that products are being stored properly in such a fast-paced industry.
On top of that, accurately forecasting demand is essential for ensuring that businesses have the supplies they need when they need them. Demand planning software helps companies forecast demand by considering historical data, market trends, seasonality, and more. By accurately forecasting demand, cannabis businesses can avoid stockouts and shortages that can disrupt operations—and cost them customers.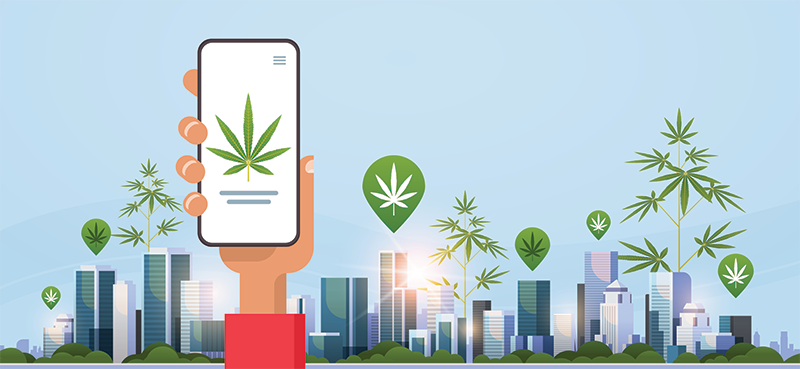 Managing Customer Relationships
CRM software helps businesses manage customer data, including contact information, purchase history, and more.
With CRM software, companies can segment their customers, providing them with targeted communications that improve customer loyalty and retention.
Additionally, CRM software enables cannabis businesses to cross-sell and upsell their products, increasing revenue per customer. For cannabis businesses looking to improve their customer relationships, investing in a CRM solution is essential.
Vendor and Customer Relationship Management
Another challenge facing the cannabis industry is managing vendor and customer relationships.
Vendor management software helps businesses manage supplier data, including contact information, product catalogs, and more.
Vendor management software allows businesses to streamline their procurement process, saving time and money. Additionally, vendor management software ensures that companies always have access to the supplies they need, avoiding disruptions in operations— making it an invaluable tool for cannabis businesses looking to improve their vendor and customer relationships.
Sales and Marketing in a Regulated Industry
It's also essential for all businesses to track marketing and sales metrics to gauge their efforts' effectiveness.
However, tracking these metrics can be difficult for cannabis businesses due to the complex regulatory environment in which they operate. Additionally, most traditional marketing and sales tools are not designed for the unique needs of the cannabis industry.
With marketing attribution software, businesses can see which channels are most effective at generating ROI so that they can allocate their resources accordingly. In addition, sales performance management software helps companies track key sales metrics like quotas attainment, win rates, pipeline health, and more. By monitoring these metrics closely, cannabis businesses can fine-tune their sales processes and strategies to enhance business prospects.
How an ERP Can Help Overcome Cannabis Industry Challenges
When it comes to sustaining growth in the cannabis industry and overcoming these challenges, several factors come into play.
One of the most important is having a robust ERP software solution in place. A good ERP system can help with everything from accounting and inventory management to regulatory compliance. In addition, it can provide valuable insights into your business operations, allowing you to identify areas that need improvement. Investing in a quality ERP software solution gives your cannabis business the best possible chance of success.

Streamlining Cannabis Operations with SAP Business One
SAP Business One is an enterprise resource planning (ERP) system that can help cannabis businesses overcome these challenges.
The system provides real-time reporting, multi-dimensional accounting, sales and purchase contracts, project planning and budgeting, inventory and warehouse management, and more. With SAP Business One, you can streamline your operations, improve your decision-making, and better manage your business. In short,
SAP Business One can help you turn your cannabis business into a well-oiled machine.
When implementing SAP Business One into your operations, it's important to have a partner who can guide you through the process of adopting the tool. Support One offers best-in-class guidance on purchasing and supports the successful usage of the platform for your cannabis operations.
The SAP Business One also integrates into popular eCommerce, CRM, and shipping platforms. These include Salesforce, Metrc, and XPO Logistics. These integrations make it easier for you to get the most up-to-date data on your cannabis sales and distribution. The platform is built to be an all-in-one solution for your key business processes and is designed to help you sustain growth.
Support One also supports your learning as you navigate the SAP Business One platform. This includes in-depth how-to videos and a training series that help you improve your business processes.
Get in touch with us today for a free consultation on your way to enhanced cannabis business success.
https://supportone.us/wp-content/uploads/2022/11/cannabis-industry-challenges.png
400
600
admin
https://supportone.us/wp-content/uploads/2021/09/S1Logo-new-300x46.png
admin
2022-11-15 00:00:22
2022-11-19 00:06:44
Cannabis Industry Challenges